Canare V5-3C Jacketed RGBHV Video "Snake" Cable BNC/BNC or BNC/RCA 2m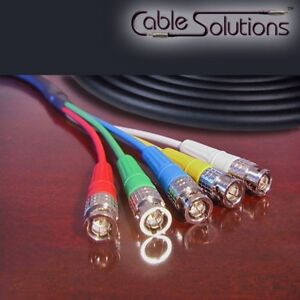 ---
Canare V5-3C Jacketed RGBHV Video Cable
"Pro Series" 5-Channel Precision Cable with BNC or RCA connectors
2 meter, (6.6 foot) (click here to see a complete list of available lengths)
Canare V5-3C RGBHV Jacketed Video Cable - "Pro Series" Precision 5-Channel cable, shown here with BNC connectors
This Canare V5-5C Jacketed RGBHV Video cable is a "Pro Series" 5-Channel Precision Cable with BNC and RCA connector options*.  Built with Canare's mid-sized high-performance 5-channel video cable, we install Canare's matching, high quality, "True 75 Ohm" BNC and/or RCA type connectors.*  The connectors are fitted with flexible silicone boots, providing essential industry-standard color-coding while avoiding sharp bends at the connectors.
This is an ideal way to connect a wide range of professional video equipment as well as satellite receivers, video processors and similar sources to CRT, LCD, DLP, LCOS, SXRD, plasma, monitors, HDTVs, front projector, or any RGBHV video-enabled equipment.
With this custom cable, you select the connectors that perfectly match your equipment, eliminating the need for adapters that can cause impedance bumps.  If you are interested in why impedance bumps are bad, please read Flawless Results below.
If you are not sure which cable to choose, this comparison of Canare component video cables may be helpful. 
You can tell by looking that Canare cables and connectors are well made, and you can tell by reading the rave reviews that Canare cables are great performers!  Canare is preferred by professionals and discriminating enthusiasts, alike.  Canare cables are often the choice of the professionals who produce and broadcast the program material that we strive to accurately reproduce.  It is hard to imagine how one could do better than to use the same cables that were used to originate the programming!
BNC Connectors
In our experience, the key to great video cables is in the connectors.  Exotic conductors and shielding are fine, but it's the connectors that really make the difference.
The BNC-type connector is the best connector that is commonly available for applications of this type.  In general, it is both mechanically and electrically superior to an RCA connector.  It has a twist-lock mechanism to ensure that the connection is mechanically secure, and the electrical design of the connector does a good job of maintaining constant impedance at the connector.
Canare takes this inherent superiority to the next level.  For example, many BNC connectors have a characteristic impedance of only 50 ohms, but Canare connectors are engineered to maintain a constant impedance of 75 ohms.  This makes a lot of sense because virtually all A/V equipment is designed to work best with 75 ohm cables.  It follows that if you want the best performance your equipment can deliver, you will need cables and connectors that maintain this impedance.
This electrical superiority is the result of superior mechanical design, high quality materials and precision manufacturing.  Canare's BNC connectors are almost artful in their design...and they work very well indeed.
Optional RCA Connectors*
It is hard to imagine a finer RCA connector than Canare's.  Generic RCA plugs and cables have been around since the 1940s, but the old solder-type plugs typically have an impedance of about 25 ohms.  This is a problem because most modern A/V gear is designed for 75 ohms impedance.  This impedance mismatch results in extremely poor return loss performance, even when the connectors are mated to high quality cable.  Some of the so-called "high end" cables use exotic-sounding materials and make unsupportable claims, but still fail to solve this very real and important problem.
Canare's impedance-matched 75 ohm RCA crimp plugs solve these problems.  As with the BNC connectors, they are precision machined to maintain a constant 75 ohm impedance.  We install them using Canare tools that always prepare the cable ends, just right.  The connectors are crimped in place, using heavy, precision-machined dies.  The result is excellent digital and analog performance with a usable bandwidth to over 200 MHz!  The connector design ensures consistent and extremely reliable terminations.  VSWR is typically less than 1.1 from DC to 200 MHz.  The crimp design excludes oxygen, preventing corrosion associated with dissimilar metals, which can degrade even the best soldered connections.  It's an awesome system, and the resulting terminations are in a class of their own.
The center shaft is gold plated.  If you look closely at the picture at the right, you can see the internal beryllium pressure fingers, which ensure good contact, while avoiding the "grip of death" that afflicts Monster and some of the other manufacturers' connectors.  The "grip of death" connectors put unnecessary strain on your equipment.  Canare connectors connect up smoothly, and maintain good contact, while protecting your equipment investment.
Cable Specs
Of course you also want high quality cable.  Flexibility is desirable because it avoids stress on your equipment and the interconnects.  Flex life is important because it prevents cable performance from degrading over time.  Try to avoid multiple materials in the conductors or shielding, because of the problems associated with dissimilar metals.  Low loss is desirable, but don't sacrifice mechanical integrity in favor of small differences in loss specs!  Cables with foamed dielectric materials generally have lower loss, but foam is not without it's own inherent problems.  Shielding is important, but don't be confused by exorbitant claims.  Electrical shielding is not the same as waterproofing -- you don't need two, three, four, or more layers of shielding to get good electrical shielding.  All the extra layers make the cables stiff, and tend to make good terminations more difficult to install, and more prone to failure.

This five-channel Canare cable is lightweight and extremely flexible.  It has a PVC jacket with a smooth, non-glare finish, and it stays flexible even at sub-zero temperatures!  Here are some specs on the cable:

Outside jacket diameter, 11.5 mm (.453 in.) Individual channel OD, 4.4 mm (.173 in.) Low loss - less than .015 dB per meter at 1 MHz, and less than .49 dB even at 1 GHz! Tightly woven all-copper shield with greater than 97% coverage Nominal capacitance, 67 pF per meter Nominal impedance, 75 ohms Velocity of propagation, 66% Less than 2.2 nanosecond differential delay between channels

*Be sure to include a note with your payment specifying the terminations you prefer.  If you do not specify, we will build per our standard: BNC to BNC

This picture shows a 1 meter cable with BNC connectors.  The actual length of the cable offered for sale on this page is 2 meter (6.6 foot).  (Please click here to see a complete list of available lengths)

This close-up will give you a better look at our end preparations.  BNC connectors are shown here, but you may also select RCA connectors.*

Here is a closer look at Canare's excellent BNC connectors.  Notice the heavy connector bodies and gold-plated pins.

Shown here are the optional RCA connectors.*  This close-up will give you a good look at the internal gold-plated beryllium copper pressure fingers and gold-plated center shaft that are unique to Canare's amazing "True 75 Ohm" impedance-matched RCA connectors.

*Be sure to include a note with your payment specifying the terminations you prefer.  If you do not specify, we will build per our standard: BNC to BNC
Why Cable Solutions?
Customer service is our first priority. We do our best to help you find the best solutions for your particular application. We're enthusiasts too, so we know what it's like to wait for cables to hook up new gear. We stock all of the components needed to build all of the items listed on , so we are able to do something that most cable shops do not - we build and ship most custom cable orders within one business day. If you have had enough of outsourced support or worse yet, companies that do not even publish a phone number or a functional email address, we think you will be absolutely delighted that you found our company. We know how important it is to be able to get help when you need it. That's why we have people, right here in Texas, ready to respond to your email or answer your phone call. If English is your language of choice, you will have the simple pleasure of communicating with people whose first language is English. Granted, if you call on the phone, you may detect more than a trace of a Texas accent, but that is to be expected when dealing with a family-owned business run by native Texans. We sincerely hope that you will find our heritage of courtesy, honesty, and an ethical way of doing business to be a refreshing experience. The importance of high-quality workmanship is second only to the importance of superior service. It takes good people to do outstanding work...the kind of workmanship you want for your custom cables. I'll let you figure out for yourself why paying too little for a cable can turn out to be just as bad as paying too much.

Canare cable, Canare connectors, and Canare tools...an all-Canare system.  When you take a system this good and put it in the hands of technicians as good as ours, it becomes an awesome system! Design excellence, high quality materials, meticulous workmanship, and superior service...put it all together and you get a superior product. Don't get stuck with bad advice, poor service, slow shipment or an inferior product. If you want the best, here it is!
Shipping/Handling
 

Please check the "Shipping and payments" tab to see the shipping options we are offering for this item, including pricing and estimated ETA.  Please notice that 's estimates are not entirely reliable. If you need a better estimate, please do not hesitate to contact us.

USA Shipping Options

 

USPS Priority MailAir service that provides 1 to 3 day delivery to US addresses.  It includes basic tracking information as well as Delivery Confirmation.  Saturday delivery is included at no additional charge.

USPS Priority Mail ExpressPremium air service that provides overnight delivery to most (but not all) US addresses.  Better tracking and faster delivery than Priority Mail.  Saturday delivery is included at no additional charge.

USPS First Class MailEconomy service for items weighing less than 13 ounces and valued at less than $200.  This service is typically a day slower than priority mail and since scanning is optional, the tracking is of limited value.

UPS GroundEconomical alternative to mail services, particularly for large/heavy items.  Being a ground service, it is not fast unless you happen to be close to our shipping location, but tracking is typically superior to mail services.

UPS 3 Day SelectGuaranteed delivery within 3 business days.  Tracking is typically more reliable than mail services.

UPS 2nd Day Day AirPremium alternative to mail services that provides guaranteed delivery by the end of the second business day.  Tracking is typically more reliable than mail services.

UPS Next Day Air SaverPremium alternative to mail services that provides guaranteed delivery by the end of the next business day.  Tracking is typically more reliable than mail services.

UPS Next Day Premium alternative to mail services that provides guaranteed delivery by the morning of the next business day.  Tracking is typically more reliable than mail services.

Please refer to the Shipping and payments tab to see the actual services, rates, and transit times available for this item.

International Shipping Options

 

Priority Mail Express International (EMS)Our preferred international shipping method for all international shipments because it offers the best tracking as well as the fastest and most dependable delivery.

Priority Mail InternationalAvailable for items under $300 in value.  Cost is somewhat lower, although delivery is typically slower and tracking is less reliable than PMEI.

First Class Mail InternationalEconomy service for items weighing less than 4 pounds and valued at under $200.  This is the least expensive international shipping option, but the savings comes at the expense of tracking - scanning not mandatory, so this service does not provide reliable tracking information, and the post office will not trace delayed or lost packages.

Please refer to the Shipping and payments tab to see the actual services, rates, and transit times available for this item.

Keep in mind that 's transit time estimates are from the US Postal Service.  The total transit time to your address can be affected by circumstances in your own country, such as delays at your local customs office, or cases where no one is available to receive the delivery.

International customers should be prepared to pay import taxes and/or duties at the time of delivery. In NAFTA member countries, customs duties should be discounted for products that are made in the USA, but taxes may still be collected.  Please be advised that we declare actual contents, value and country of origin for customs and insurance purposes.No exceptions please.
Warranty
Manufacturer's Warranty Statement

Should any cable assembly manufactured by Cable Solutions fail due to defects in materials or workmanship within one year of the sale date, we will repair or replace, at our discretion, the defective product at no cost.

Cable assemblies that fail after the warranty period has expired may be returned for repair at a nominal charge, if not damaged beyond the point of repair.

This is a limited warranty and is not applicable to products which have, in our opinion, been damaged(including lightning, water, fire, etc.), altered, abused, misused, or improperly installed. Cable Solutions makes no other warranties either expressed or implied, including limitation warranties as to merchantability or fitness for a particular purpose. Additionally, there are no allowances or credits available for service work or installation performed in the field by the end user.
Return Policy
Defective Merchandise

Defective merchandise will be repaired or replaced as described above.

Non-defective Merchandise

All non-defective returns are subject to restocking fees.  The restocking fee varies, depending upon the degree of customization.  Very common configurations are subject to a 10% restocking fee, while very unusual configurations could require restocking fees up to 60%.  We realize that this is a large range, so please contact us if you have questions about a particular cable assembly.

A Return Merchandise Authorization (RMA) is required for all returns. Please contact us for authorization and instructions.

Shipping/handling fees are not refundable and you will be responsible for all shipping/handling expenses related to the return.  In the case of items with "free shipping", customary shipping/handling fees will be added to your restocking fees.

In order to qualify for the rates shown above, we must receive your return within the first 14 days following the day you receive your order.  In cases where the item is returned incomplete, or in less than perfect condition, we will evaluate the restocking fees on a case by case basis.

Powered by SixBit's eCommerce Solution