Bronze Low Voltage LED Compatible Spot Light Directional Landscape Lighting 615624269438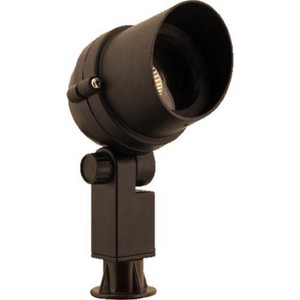 ---
Item Description: Cast Aluminum Low Voltage Spot Light - Landscape Directional LightOrbit Evergreen offers a full line of  designer quality lighting solutions for any outdoor landscape. Their directional lights projects light into a given direction. They are used for flood lighting (signs, walls, hedges, security) and spot lighting (flag poles, palm trees, architecture, statuary objects).Condition: BRAND NEW IN BOXColor: BronzeContents: Spring-mounted lamp positioned behind lens, GS-85 PVC Spike, CO-3 Connector and  20 Watt MR16 BulbFeatures:Cast AluminumHigh- Temp., long life socketAdjustment KnobFlat Tempered LendsWith Cable LeadsPro Stake IncludedSpecifications:
Category
Landscape Lighting
 
Specifications:
Voltage
12 Volts
Lamp type
MR16 Halogen 20W Lamp Included, 35W Max. (you can replace bulb with an LED MR16 5W Bulb)
Lens type
Tempered Glass Lens
Socket
Premium grade Porcelain socket with Nickel contacts and Teflon-jacketed wire leads
Gasket
Sealed with high grade weatherproof Silicone Gasket
Wiring
Pre-wired with 24" SPT-1 Cord
Accessories
GS-85 PVC SpikeCO-3 Connector
Shipping & Returns:$6 for the first and $1.50/ additional unitNo Returns RETURN POLICY:Returns are accepted within 14 days after purchase.Item must be returned in its original state.Buyer pays return shipping and is subject to a 20% restocking fee.