Map of West Africa Nigeria Congo Cameroon Zatta Colored Copper Engraving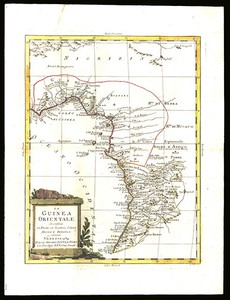 ---
Click on the imagefor a detailed view.

Maker: Antonio Zatta (1750 – 1804)

Short Title: Loango Congo Angola Benguela

Full Title: La Guinea Orientale che contiene li Regni di Loango Congo Angola e Benguela

Size of Map: 42.2 x 33.5 cm approximately (16.6 x 13.2 in.)

Description - A colored outlined copper engraved map of Map of Guinea in West Africa, encompassing the regions Congo, Nigeria and Cameroon showing detail as such as place names, lakes, rivers and mountains,.

References: Phillips 651 Map 42; Tooley's Dictionary of Mapmakers Revised Edition Vol. (Q – Z) p. 429

A Great Gift For Any Manuscript Collector

We Now Accept PayPal!

We Ship Worldwide. Please Contact Us For a Free Shipping Quote!