1497 Incunable Bible Leaf Book of Book of Numbers 30-31 Hand-Colored Letters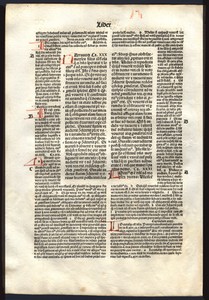 ---
Click on the imagefor a detailed view.

This is a leaf of incunabula from a Biblica Latina Cum Postillis, Book of Numbers Chapters 30-31. Anton Koberger printed it on September 6, 1497 at Nuremberg. The folio size heavy paper leaf measures 335 x 230 mm. in totality and contains various lines of gothic type (14:130G, 15:91G, 19:71G, 21:74G) surrounded by 71 lines of commentary by the noted theologian Nicholas de Lyra (b. 1270 d.1340) printed double column in Latin. This particular Bible comes from the first of a four-volume set (Genesis through Chronicles). It contained the usual introduction from St. Jerome but the most interesting aspect was pages 169 - 184 were omitted because they were not present at the time of binding. This skipped from Leviticus Chapter 23 to Numbers chapter 22. The verso contains the same type and layout. (Hain 3171, Proctor 2115, Goff B-619, Oates 1046/7 GW 4294) This leaf contains minor staining.

A Great Gift For Any Manuscript Collector

We Now Accept PayPal!

We Ship Worldwide. Please Contact Us For a Free Shipping Quote!

Click on the logofor more information.