1496 Incunable Leaf Francesco Petrarca Latin Literature Poetry & Sonnets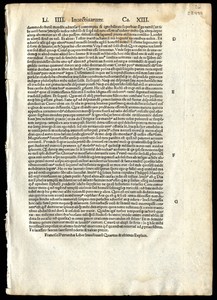 ---
Click on the imagefor a detailed view.

This auction is for the last leaf of this fragment. which is a collected work of Francesco Petrarca (Frances Petrarch). Petrarca (1304-1374) was born in Arezzo Italy and studied law, writing and Latin literature, sharing this passion with his friend Giovanni Boccaccio. In Avignon Petrarch composed numerous sonnets, which acquired popularity. In search for old Latin classics and manuscripts, he traveled through France, Germany, Italy, and Spain. As a scholar and poet, Petrarch soon grew famous, and in 1341 he was crowned as a poet laureate in Rome. He was subsequently charged with various diplomatic missions. The latter part of his life he spent in wandering from city to city in northern Italy as an international celebrity. Petrarch settled about 1367 in Padua, where he passed his remaining years in religious exercises. He died in Arquà in the Euganean Hills on July 18, 1374. Francis Petrarch had an enormous influence on English literature, beginning in the sixteenth century. His poems shaped much of Elizabethan lyric poetry, and Shakespeare's sonnets could not exist without Petrarch's previous sonnets and canzone. This edition of the "Opera" was complied and edited by the famous 15th century humanist and man of letters Sebastian Brant. Johann Amerbach printed it in the Swiss city of Basel in 1496. The leaf measures 290 x 200 mm. in totality and contains 55 lines of Roman type (8, 23, 24, 25) printed single column in Latin with versal indents and guide letters. The Verso is Blank. (Hain 12749, Oates 2791, Proctor 7608, Goff P-365, GW m31505) This leaf contains minor staining.

A Great Gift For Any Manuscript Collector

We Now Accept PayPal!

We Ship Worldwide. Please Contact Us For a Free Shipping Quote!