1493 Bible Leaf Book of Eclesiasticus 41 With Commentary Hand-Colored Letters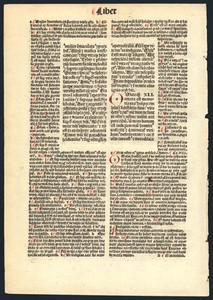 ---
Click on the imagefor a detailed view.

This is an incunabula leaf from the "Biblia Cum Postillis", Book of Eclesiasticus (Sirach) Chapter 41, which was a Latin vulgate Bible in four volumes. The famous Anton Koberger printed this edition on April 12, 1493 in Nuremberg Germany. The small folio size leaves measure 293 x 205 mm. in totality and contain various lines of Gothic type surrounded by 65 to 66 lines of commentary by the noted medieval theologian Nicholas de Lyra printed double column on paper in Latin. The leaf also contains 2- three line versal letters in red with versal indents and guide letters. There is copious rubrication throughout the text as well as ornate flourishes. The verso contains the same amount of lines and type. (Hain 3170, Proctor 2083, GW 4293, Oates 1025) This leaf contains minor staining.

A Great Gift For Any Manuscript Collector

We Now Accept PayPal!

We Ship Worldwide. Please Contact Us For a Free Shipping Quote!