1483 German Bible Leaf Ecclesiasticus (Sirach) Chap 37-39 Hand-Colored Letters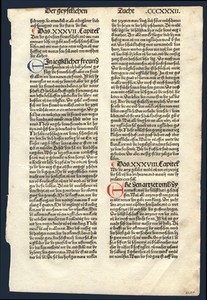 ---
Click on the imagefor a detailed view.

This is a leaf of incunabula from a Biblica Germanica, Ecclesiasticus (Sirach) Chapters 37-39, printed in Nurenberg by Anton Koberger on February 17, 1483. The folio size paper leaf measures 365 x 245 in totality and contains 50 lines of Low German script in a gothic typeface printed double column. There are two 5-line versal letters in red and blue, as well as copious rubrication in red. The verso contains the same amount of lines and type style with a single versal letter in red. (GW 4303, Oates 1000, Proctor 2028, Hain 3137) This leaf contains minor staining.

A Great Gift For Any Manuscript Collector

We Now Accept PayPal!

We Ship Worldwide. Please Contact Us For a Free Shipping Quote!